Automatically

Embed Live Video

on Your Website
Copy and pasting embed codes every time you go live is a hassle.
Add our embed once and you're done. One Time Embed! Live Streaming to Your Website Made Easy
Bring Facebook, YouTube & Twitch live streams straight to your website with a single embed code.
Automatically Embed Live Video 🔥🔥
One-Time Embedding Magic

Say goodbye to repetitive code updates. Just embed on your website once, and we handle the rest.

Live Instantly

EmbedVidio detects when you're live, auto-starting your stream with no page refresh reqired

Compatible With Your Website

Seamlessly integrates with virtually any website, blog, or CMS, ensuring effortless live streaming everywhere.
Before EmbedVidio... after starting a live stream, I had to manually add the embed code to our website every time. This was too much work in a short time before the event began. Now I don't have to worry about it. Fantastic!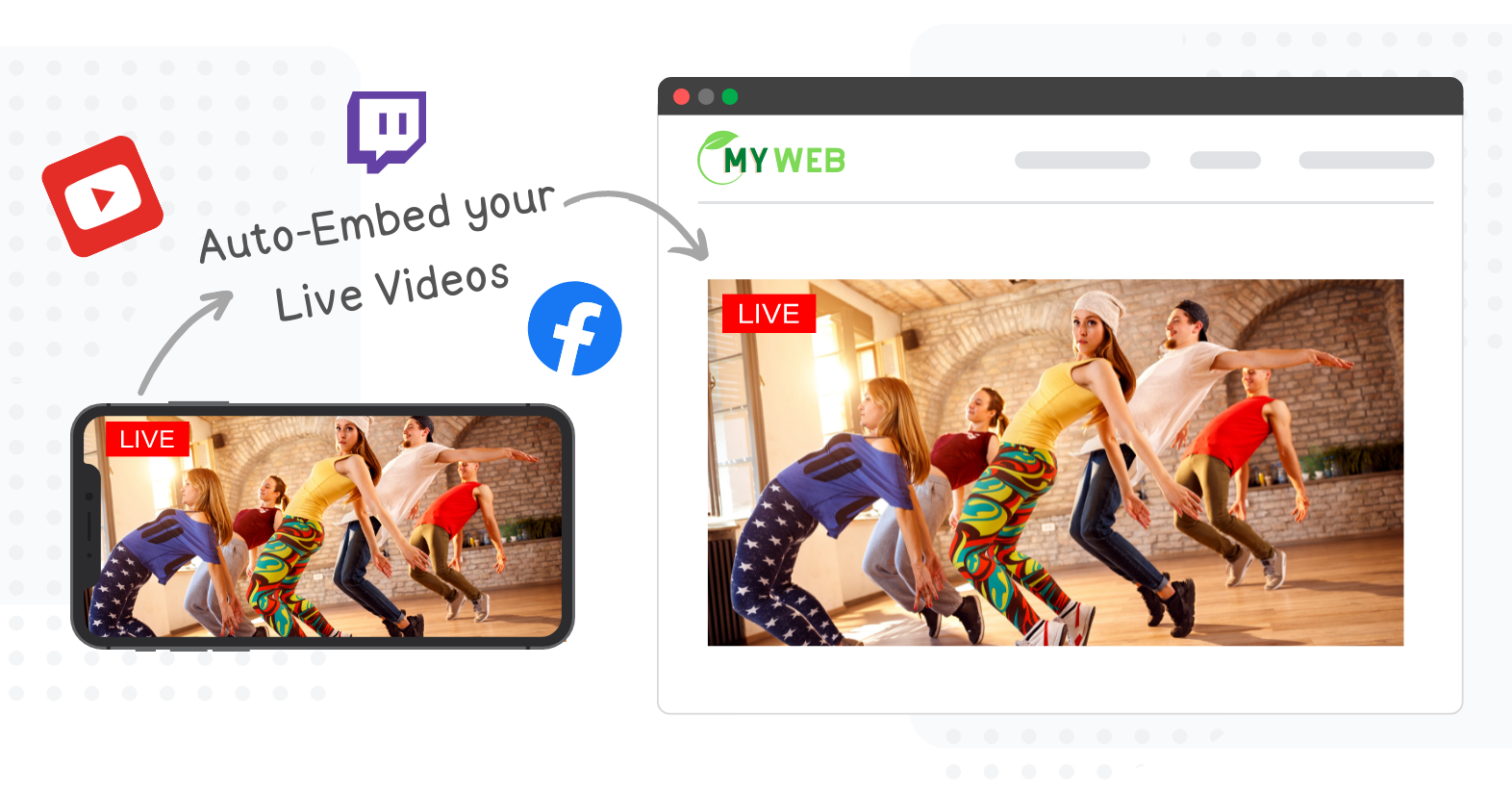 Showcase Your Previous Videos
Always Ready, Never Empty

Even when offline, your site stays lively. Choose to display your previous videos, or a personalized placeholder image, keeping your audience engaged.

Synced & Updated

No manual uploads or updates. EmbedVidio ensures your video widget is always in sync with your social media content.

Designed for You

Choose the perfect look for your website. Whether you're into Collage, Carousel, Wall, Grid, or Slider styles, we've got the perfect fit for your website.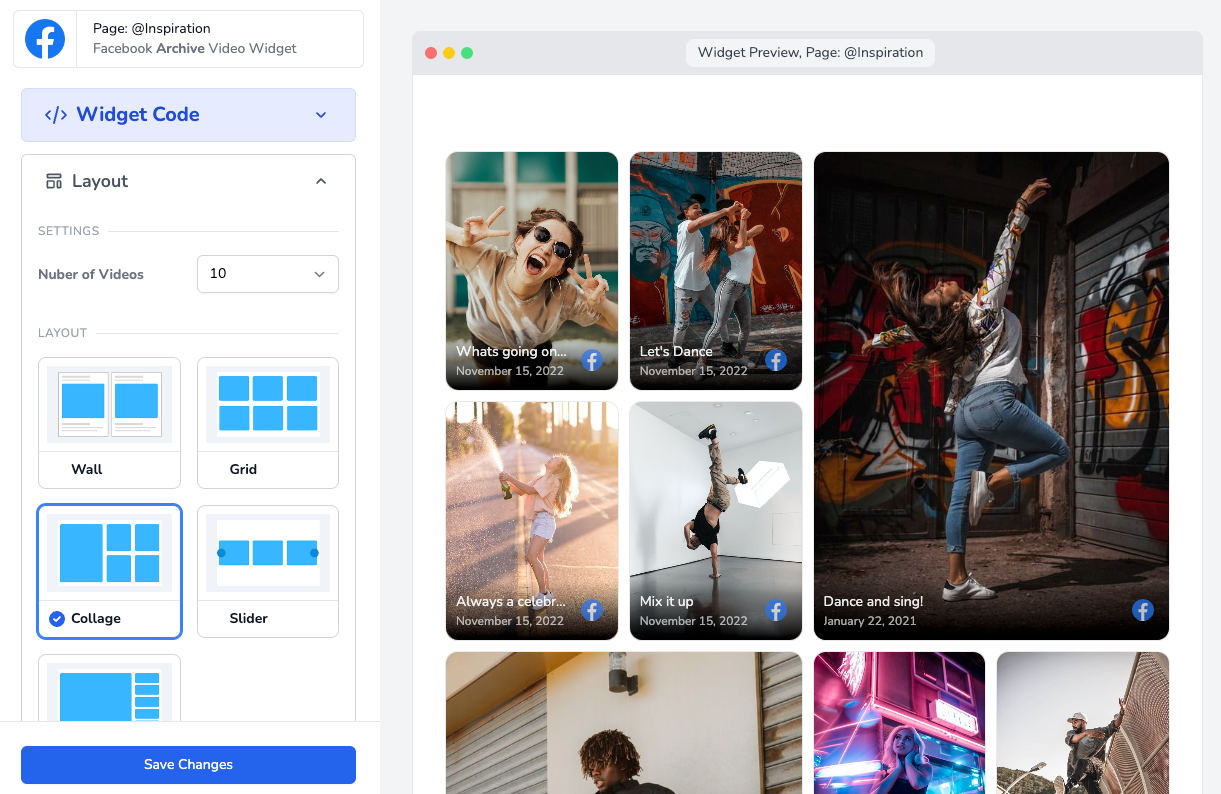 Everything you need
Auto-Embed Live Video Solution
No more repetitive embed tasks for every live broadcast. Set up your one-time live embed code and let EmbedVidio do its magic. Works with Facebook, YouTube, and Twitch.
No Complicated Setup

Connect in seconds. Simply use Social Login to connect Facebook and Twitch, or just drop in your Channel ID for YouTube.

Time Saver

Say goodbye to manual embed updates every time you go live. One embed code, set it and forget it.

Distraction Free

Ditch the social media noise. Keep your audience focused on your website content.

Automatic Start

Just go live, and EmbedVidio instantly picks it up, streaming your content without needing any page refresh. As intuitive as it gets!

Mobile Responsive

Enjoy mobile-friendly widgets tailored for any device, ensuring a clear and captivating viewing experience.

Works on Virtually Any Website

Our widget easily slots into any website that supports Javascript. Seamless and simple. Live Stream, One Time Embed!
The easy way to auto-embed live streams on your website and grow your audience.
Give it a try for free!
What our customers are saying
1000's of people use EmbedVidio daily. Join churches, instructors, gamers, live sellers, and more who use EmbedVidio to embed social media video on their website to engage and grow audiences.
People can go to our website to watch our live or latest video without the confusion of facebook

Jeff Goin

Redeemer Lutheran Green Bay

People can go to our website to watch our live or latest video without the confusion of facebook.

Steven Antonio, Mary

Queen of the Apostles Parish - Salem MA

EmbedVidio is fantastic. I found it after doing a search for LiveStreaming tools and software and LiveStreaming for cheap, in order to start a LiveStream for our Church.

Kris Kemp

Royal Palm Presbyterian Church

EmbedVidio helps us embed live-streams to our website for those not directly on Facebook.

The stream to our site is easier for us to share than sending people to our Facebook page.

I love being able to point people to our website to view our livestream broadcasts. Super helpful for non Facebook users.

Paul Amlin

The Water of Life Conference, ELCA

Using EmbedVidio has resulted in a shift from viewers of live-streamed Sunday Mass on FB to our website

Alan J Heavens

Holy Trinity Episcopal Church

EmbedVidio allows our members without Facebook to view our livestream worship services on our website.

Patti Grayson

Hilton Presbyterian Church

Every day we stream the daily mass via Facebook Live.

With EmbedVidio we now have a permanent embed streaming Facebook Live to our .org website!

Gabriel Gaud Burgos

Soy Claretiano

EmbedVidio is great! It allowed us to add an automatic Facebook live stream to our Squarespace website

Malynda Tamang

River Church of Juniata County
Frequently asked questions
Have a specific question? Check the FAQ section below or click the bottom right chat icon and talk with us.
Works with 99.9% of the web builders & eCommerce platforms
Add the one time embed code to your webpage. Works with virtually any website or CMS platform.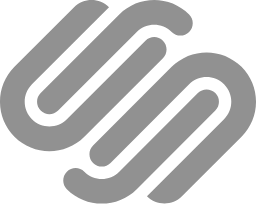 Does EmbedVidio work on my website/platform?

Yes! EmbedVidio's widget codes work with any web builder or eCommerce platform that supports Javascript embedding.

Will my website visitors need to manually refresh their browser window after my live video has started?

No. EmbedVidio will detect when you are live and start streaming without any page refresh.

Do the widget videos update automatically?

Yes. EmbedVidio has approved API integrations with Facebook, YouTube, Twitch, TikTok, and Instagram, enabling the system to collect and update videos automatically.

Do I need to pay more for certain features?

No, all features are included with each plan. We only charge differently by the number of widgets that can be created.

What platforms support the live video feature?

Right now the live video support is available with, Facebook, YouTube, And Twitch.

Do I Need To Add My Card Details For Free Trial?

No. You don't need to add any card or payment details for your free trial.

Can I Switch My Plan After Buying?

Yes, you can upgrade or downgrade your plans anytime.

Do the widgets stop working if I cancel?

Yes, the widgets will stop showing on your website, but you can come back and activate your account at any time.

What is your refund policy?

We have a 100% money-back policy. No questions asked.